Sale!
Clear Kimi Kalimba Thumb Piano 17 Key
89.00$
Buy More

Range

Save More

Buy 2
2 - 2

10%

44.96

$

Buy 3+
3 - 5

15%

42.46

$

Buy 6+
6 - 100

20%

39.96

$
Description
? WANT TO GIVE THE BEST GIFT EVER? ?
?The Best Gift  For Parents. Friends.Children?
Arouse The Best Memories.Enjoy Music.
Kalimba, also known as thumb piano, is like a magic music box that can produce amazing sound. It is a new type of instrument originated in Africa and super great for children to cultivate musical talent and for adults who simply love music.
? Easy to Play: Without any music basis, you just move your thumb to get the wonderful music that delights your day long .
?Clear and Melodious Sound: Made of advanced metal tines and mahogany box. Notes is sustained longer steadily. The sound will be more beautiful.
? Portable Design: Small size and come with a portable cloth bag for easy carrying. An excellent choice for relax, decompression, travel etc.
? High-quality Materials: Handmade with high-quality mahogany and ore steel bars, giving you a better sense of hearing, vision and touch.
? Immeadiately Playable: Music book comes with in-tune kalimba. There are engraved notation in tines, making it perfect finger piano for beginners and children.
EASY TO PLAY
You just need to use two thumbs play to make a great sound.
Easy to tune your kalimba
Step 1: Find the Tuner
You can use a real tuner or download an App.
Android system app: gStrings, Apple system app: Instuner.
Step 2. Tune with Harmmer
Making tines longer to lower their pitch, and making them shorter to make their pitch higher.
Package List:
1 * Kalimba
1 * Carry Case
3 * Sticks
1 * Tuning Hammer
1 * Cleaning Cloth(Random Color Delivery)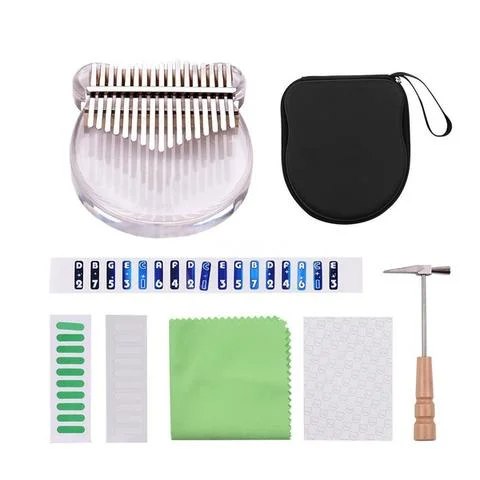 WHY CHOOSE KALIMBA?
?Easy to learn. Zero basic can be learned, a month skilled single playing.Make your little musical dream come true.
?Music Lover. can make Beautiful And Pleasant music with Kalimba whenever and wherever.
?To the parents. Let them spend their leisure time on Kalimba and play soothing music called, healing body and mind!
?Great choice for children's gift list. Develop a child's interest in music. To avoid them spending too much time indulging in electronic products.
?For the friends. This Potable Kalimba is the best gift for your friends who like music this year.
?For yourself. spend a good night with Kalimba playing a sweet song after a hard day's work.
❤️Kalimba – A Healing Musical Instrument
The most enchanting musical instruments certainly include kalimba.
Kalimba is one of the therapeutic tools that do not require any musical knowledge. You can instantly make a pleasant sound and strong healing vibrations. It is therefore really good for everyone, adults, and children.